I don't know anyone who doesn't enjoy a great cup of Wendy's Chili with your burger.  Those day old patties just hit the spot somehow and are a great protein rich dish after hitting the gym.   Here is my remake of this bad boy, enjoy!
WENDY'S CHILI, FROM MEGHANN, NOT WENDY
Servings: 11.3 oz per serving, 330 calories
INGREDIENTS:
2lb ground beef (I use 93/7)
1 large white onion
5 stalks of celery
3 cans of stewed tomatoes
1 can tomato sauce (14oz)
1 can Rotel ( I use the hot version)
2 packets of McKormic's Chili Seasoning (I use the hot blend, beware its spicy!)
1 can kidney beans UNDRAINED
1 can pinto beans UNDRAINED
Salt, pepper, garlic, red pepper flakes and your tasting spoon! Or perhaps more than one 😉
olive oil
white vinegar
DIRECTIONS:
1.  Take a large stock pot, place 2 tbsp of olive oil at bottom and turn pan on med-high.  When heated, add beef and press into bottom of pan to form a disc shape covering entire bottom of pan.  Allow to cook for 8-10 minutes and will brown on the bottom to create the day old patty effect.  Will start to brown and cook through as below.  While browning chop up onion and celery and open all your cans.
2.  When 8-10 minutes are up and it starts to smell slightlyburned.  Break up with spoon and add one chopped onion and the celery stalks chopped. Add to beef mixture and cook until onions are soft and translucent, approx. 3-5 minutes.
3.  Add your tomato sauce, stewed tomatoes, Rotel and seasoning (salt, pepper, garlic and red pepper flakes).  Mix thoroughly and try to break up the stewed tomatoes with stirring utensil of choice.  When mixed add McKormic's chili powder packets.
4.  Add UNDRAINED pinto and kidney beans and bring to a boil.  Grab your tasting spoon and give it a try.  Add seasoning as desired. DO KEEP IN MIND.  Chili will thicken and increase in intensity of heat (seasoning) overnight.  Take this into consideration so you do not ruin a whole batch by adding too much on the first day.
5. Turn down to a simmer and leave uncovered to cook for 60 minutes.  Should look like below!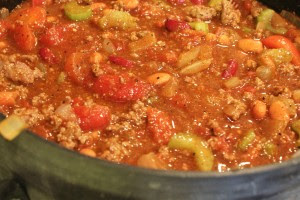 6. Add to bowl and finish with tsp-tbsp of white vinegar dependent on taste preference.  Can be omitted.  I usually give it a dollop of sour cream, or goat cheese!
ENJOY, happy cooking and of course eating! 🙂